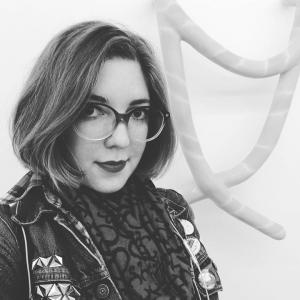 Nadine Maher
Artist member since 2018
Toronto, ON
Nadine Maher is a visual artist based in Toronto. After graduating from the Studio Art program at the University of Guelph in 2013 she was awarded the opportunity to attend the Hochschule für Künste (School of the Arts) in Bremen, Germany. In 2015 she participated in the Round Table Residency in Toronto. Her work is inspired by everyday objects and quiet, overlooked moments including shadows, trash, found objects and architectural moments.
---
When did you start making art, and why?
Creating art is one of my earliest memories, along with the chicken pox and squirting mustard in my eye once. My parents said I used to drag around a cardboard box and collect interesting twigs and rocks from the yard. I think I'm still doing that--creating an environment around me of things I find interesting.
Favourite medium
I love working with oil because it allows you to step back and consider your progress without worrying about it drying. You can mix up a batch of colours in the morning and work with them all day long.
Your favourite spot in Toronto right now
Anywhere I can zip along on my bike. I only went to the island twice last summer but I plan to spend a lot more time there this summer. And the Leslie Street Spit.
Favourite artist(s) right now
Wayne Thiebaud, Giorgio de Chirico, Josephine Halvorson, Joseba Eskubi, Wilhelm Sasnal
Favourite movie
My favourite movie has always been Oceans 11. I love heist movies.
Best season of the year in Toronto
Summer for the biking, gardening and patio parties. Winter for talking to nobody and getting the painting done.
Residencies
2013
Hoschule Fur Kunst, Bremen

2013
Lichtenberg Studios, Berlin
Art & Intervention
Education
2013
University of Guelph
Studio Art
SHARE THIS ARTIST